Amba offers a full range of NIJ and Home Office certified body armour.
We provide various levels of Personal Protection Equipment (PPE) depending on the operational requirement to UK and international markets. Ballistic vests can also be manufactured to bespoke specifications. Standard body armour features include:
Ergonomically designed for enhanced comfort.
Active 3D mesh ventilation sweat management system.
Choice of reflective band designs to match clients sector.
Made using military grade fabrics with advanced high tensile Velcro closures.
Waterproof and removable soft & hard armour panels.
High-tensile Velcro closures.
Designed and manufactured in the UK.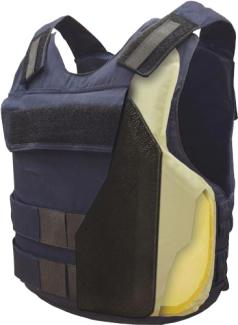 Ballistic Vests
Exceeds the Toughest Ballistic Specifications & Quality Standards
Our soft armour panels and vests conform to military specifications for material quality, manufacturing quality and longevity - including US NIJ (National Institute of Justice) and UK Home Office (CAST) specifications.
Security Body Armour
As standard, our security body armour offers a greater coverage area than other overt models in the range, providing enhanced protection against knives, bullets, needles and if required, fragments and rifle rounds.
This vest is currently in use by hundreds of cash-in-transit and security professionals in the UK and abroad. It represents the latest and greatest high-end, high visibility security vest. Useful design additions such as pen holders, radio clips, and a large segmented front pocket help support security, prison and law enforcement customers.
Hard Armour Plates
British made hard armour plates certified by the NIJ up to level IV, representing the latest advances in ceramic and encapsulation techniques to produce a world class plate at an affordable price.
Ergonomic Fit for Maximum Comfort - Our panels have been assessed for comfort and ergonomics to CE standards for use over long periods of wear.
Hard armour plates are recommended for anyone travelling to high threat locations such as Libya, Iraq, Nigeria and Afghanistan.
Community Support Vest
The Community Support Vest (or Security Patrol Vest) has been designed with versatility and usability in mind. Comfortable Protection from Handguns & Knives. 
Designed to provide a non-aggressive look, superior comfort during long periods of wear and featuring a zip-front and bellowed pocket for practicality on the job. Suited for police, government and security applications.
Advanced Combat Helmet
An ideal general purpose helmet range for the modern soldier utilising the excellent performance of aramid, bound in a thermoplastic resin matrix.
Each helmet achieves excellent performance to weight ratio by undergoing a unique process technology providing maximum wearer comfort. We offer a wide range of helmet styles from the traditional PASGT to the modern MICH cut helmet to the more agile SF (Special Forces) Helmet.
Our combat helmet is continually tested through independent laboratories to comply with the latest international ballistic and fragmentation standards.