Security and defence applications for our drone systems include:
Critical national infrastructure
Oil & gas facilities and pipeline maintenance
Airport and port security
Solar farm security
Crowd surveillance at events or demonstrations
Protection of high-value property and estates
Anti-poacher operations
Monitoring natural disasters and catastrophes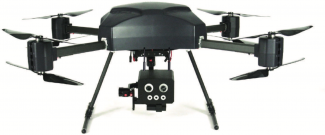 X8 Security Drone
The X8 Security Drone is ideally suited to perimeter response applications. It is quick to launch, simple to operate and broadcasts real-time HD quality video - day or night.
A flight time of approximately 50 minutes allows threat assessment and a tracking within a circle of approximately 5km. On-demand perch & stare capability and smart active waypoint tracking means the drone can follow user defined target parameters, for example, a thermal signature.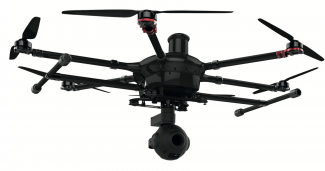 Tornado Security Drone
The Tornado Drone System is a professional multirotor aerial videography, photography and surveillance platform. It is quick to launch, simple to operate and gives impressive manoeuvrability and control in patrol and security response situations.
Our Ready to Fly package comes equipped with a gyro stabilised HD-quality video camera for live- broadcasts up to 1,600 feet. 18x zoom provides close up viewing to assess a scene when a detailed picture is a necessity. Thermal, IR and 3D scanning options are available.
Complete Training & Security Drone Strategy
Amba supplies complete solutions for rapid drone deployment (including tethered options) from armoured or soft-skin military vehicles.
We can also provide complete training and consultancy packages.